Plant Based Skin Care: Hemp & CBD
Posted at 11:00 • 4 Apr • Erika Dincola • Blogger
---
Skincare is frequently sought out by all people regardless of age or skin-type. Topical skin
solutions are used by men and women in their 20s to manage acne and prevent fine lines and wrinkles. Consumers in their 30s, 40s, 50s, and beyond may use skincare products for
brightening, toning, firming, and fighting the inevitable effects of aging as well as symptoms of infection.
Plant based skincare – specifically hemp based products, are more popular than ever because of the incredible benefits that hemp extracts can provide for your skin. Are you in the market for something that can combat the side effects of issues like acne, eczema, and loss of elasticity? If so, hemp and CBD based topicals may be just what you need.
How are Hemp products made?
Before we dive into the benefits of hemp skincare, it is important to understand what hemp extract is and where it comes from.
Derived solely from the seeds of the hemp plant, hemp seed oils contain essential polyunsaturated fatty acids. Linoleic acid (omega-6) and oleic acids (omega-9) play a crucial role in boosting skin health, especially in those who suffer from psoriasis and eczema.
These fatty acids are not naturally produced by the body, so adding them to your skin care routine will also prevent and reduce wrinkles, loss of volume, and improve skin texture. Hemp seed extract contains no CBD, and is often used as a carrier oil for pure CBD isolates.
Hemp Seeds contain many beneficial properties – they are even labeled as a superfood.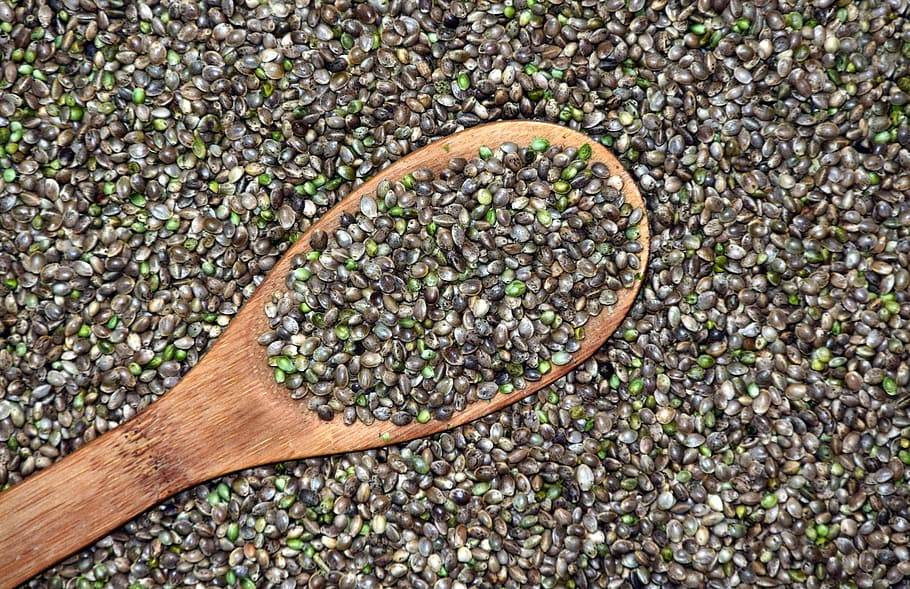 A Closer Look:
● Linoleic acid (omega-6) has a thin, lightweight consistency. Individuals with combination and acne-prone skin typically have below-average levels of linoleic acid in the sebum that resides beneath the skin's surface. Regularly applying products that contain linoleic acid (such as hemp seed oil) can reduce acne by regulating oil production in sebaceous
glands.
● Oleic acid (omega-9) is thick and rich in consistency. It easily penetrates the skin and replenishes moisture loss that naturally occurs with age, making it an excellent source for treating dry skin and combating wrinkles. Additionally, oleic acid locks in moisture by providing a protective barrier, keeping it from evaporating. Perfect for those who suffer from a lack of oil production, resulting in dull, dry skin.
---
CBD Hemp Extract (Broad and Full Spectrum):
The main difference between broad and full spectrum CBD hemp extract is the type of plant compounds the oil contains. The post-extraction compound availability is determined by which part of the plant is used for processing.
---
Hemp oils that are extracted using the whole plant, including the colas, leaves, and stems, are called full-spectrum hemp extract. The result is an oil that contains many naturally occurring compounds from hemp plants such as terpenes, cannabinoids, flavonoids, and a higher
concentration of CBD. This particular extract may contain up to 0.3% THC – which is within federal regulations and is considered non-psychoactive.
Hemp extracts that are processed using just the leaves and stems contain low levels of CBD, are called broad spectrum hemp extract. This type of hemp extract still contains natural plant compounds, only without the corresponding THC content. In fact, THC is undetectable in broad spectrum hemp extract.
Tip: One way to remember which is which:
Full (spectrum) = Whole | Broad (spectrum) = Part
---
CBD Hemp Extract (Isolate):
Hemp extracted CBD isolate is the purest form of CBD in that it contains absolutely no terpenes or flavonoids. During the extraction process all plant materials are stripped and the CBD is fully isolated. As a result this product is 100% THC-free. It generally tests at 98%+ CBD content and is used to infuse a variety of skincare and wellness products.
CBD hemp extract is packed with vitamins.
By using skin products containing CBD based hemp extract, you may notice less oily skin due to regulated oil production, reduced pain and swelling caused by acne, and less breakouts in general.
CBD hemp extract contains antioxidants:
Antioxidants help protect the surface of the skin from long term free-radical and environmental damage and are known to have powerful anti-aging benefits.
CBD hemp extract also contains B-complex vitamins:
(specifically B6, B12, riboflavin, niacin, and thiamine) which help regenerate new skin cells when applied topically (directly) to problem areas.
---
Are Hemp and CBD the same?
Most consumers confuse hemp and CBD, and rightfully so. It can be a confusing concept! Many assume that hemp and CBD are two different terms used to describe the same product. This is a common misconception because both products are derived from the same plant species.
However, this isn't the case.
CBD, also known as cannabidiol, is a naturally occurring compound that is found in the colas, leaves, and stalk of the hemp plant where any concentration of CBD exists, and is extracted using a solvent-less process. On the other hand hemp seed oil is extracted by cold pressing hemp seeds, where there is no CBD.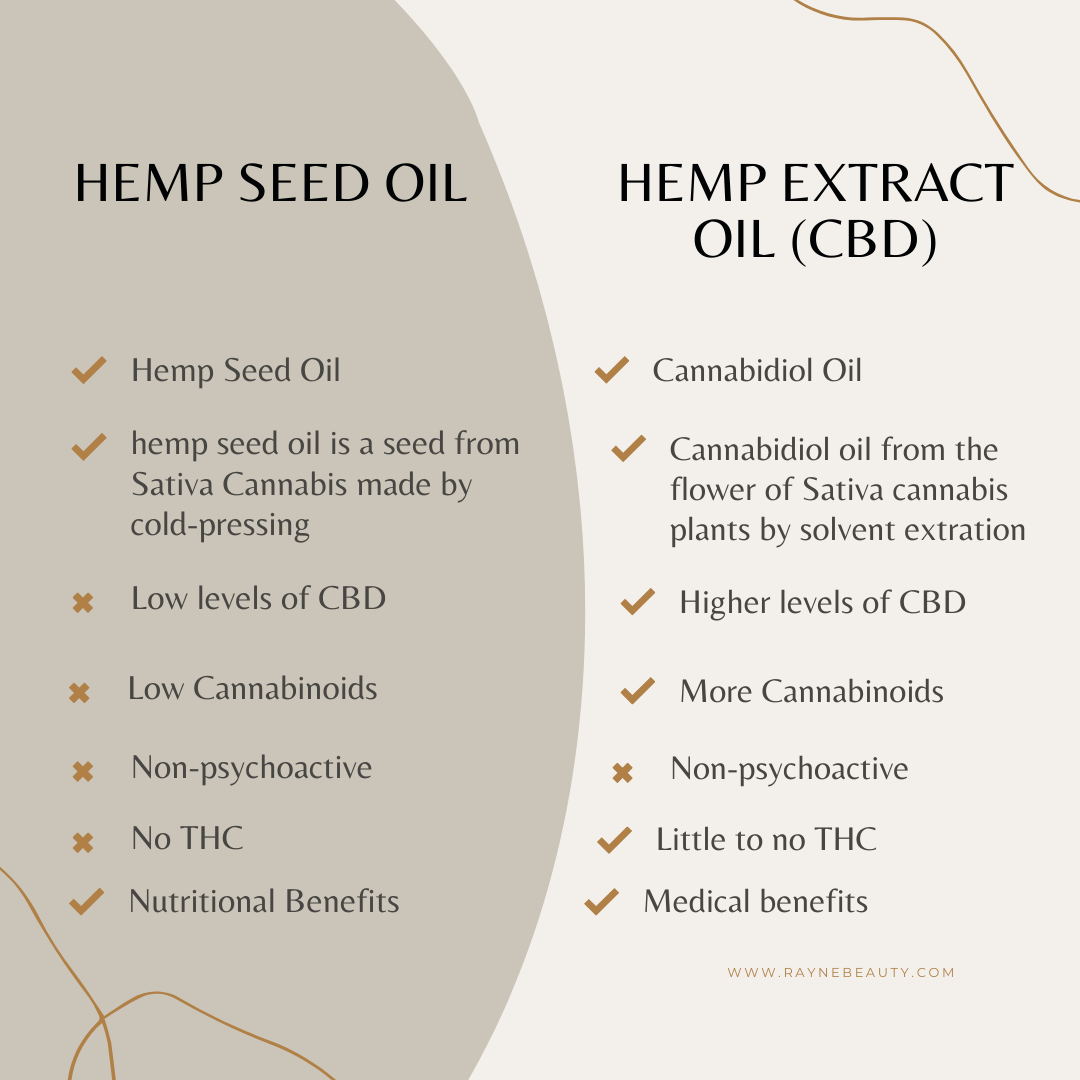 Hemp Seed Oil vs Hemp Extract Oil (CBD) : Both are well-loved in the skincare community.Text
---
Benefits of Using Hemp Based CBD Skin Care Products
Moisturizes and Nourishes Dry Skin
We've said it before – We'll say it again, and again: The most prominent benefit of using hemp-based skin care products is that they can instantly relieve itchy, flaky, dry skin. All skincare junkies know that a good moisturizer and serum will provide soft skin and a dewy glow. Add hemp seed oil and broad spectrum CBD into the mix, and you've got a multifaceted product.
Chronic dry skin can halt the fluent movement of cell membranes and electrolytes, both which can be boosted by retained moisture. The unsaturated fats in hemp oil will deeply penetrate the skin to rejuvenate its delicate cells. A study conducted in 2017 by Gholap et al. (2015) proved that skincare products with hemp oil reduced skin dryness in almost every participant.
Works well with combination skin types
Unlike other skincare lines, you won't need to waste time and money conducting a trial and error phase. With RAYNE Beauty products, hemp seed oil and CBD work together to regulate oil production and combat the effects of hormonal changes such as blackheads and a greasy appearance.
Our products work to heal and regenerate your skin without clogging your pores. CBD hemp products inhibit oil production and also provide anti-inflammatory healing for problem-causing sebaceous glands. After repeated use, you'll confidently showcase radiant skin that is neither too dry nor too oily.
Anti-Inflammatory Relief
The gamma-linolenic acid (GLA) present in hemp oil consists of anti-inflammatory properties that can relieve the symptoms and side effects of various skin disorders. Psoriasis and eczema can cause the skin to have burning or itching sensations that are commonly treated hemp-based skincare products. Physical histamine responses such as hives can even be treated by using CBD (broad or full spectrum oils, as well as CBD isolate mixed with hemp seed oils).
Anti-Aging
Hemp seed and CBD oil have anti-aging properties which help to reduce wrinkles and fine lines. Hemp CBD products can reverse the effects of aging by slowing collagen loss, as well as reversing the effects of free radicals and environmental toxins that cause cell degradation over time – eventually leading to dark spots, fine lines, and saggy skin. If hemp skincare products are used prior to any prominent signs of aging, you may delay/prevent the signs of aging altogether.
Repels Infection
(Preventable)
The most common cause of skin infection is bacteria. A popular habit that people tend to unconsciously engage in, is the frequent urge to touch their face without washing their hands prior. In a study by Kwok et al. (2015), it was revealed that participants touched their faces 23 times per hour, on average. Considering all of the things you might touch in an hour, your face could very well become a breeding ground for bacteria.
Lack of hand washing, face washing, or showering/bathing at least 3x per week can wreak havoc on your skin. The antioxidants and antimicrobial compounds present in hemp seed oil and CBD can help to reduce infections. And by improving the skin's natural barrier, these plant-derived miracle workers make it hard for microbes to enter the skin, reducing the chances of infection to begin with.
Treatable
Atopic Dermatitis is one of many painful infections of the skin. According to a study conducted by Callaway et al. (2005), the symptoms and appearance of atopic dermatitis showed a complete reduction with the use of hemp seed oil in approximately 20 weeks.
CBD is also known to treat infection almost as well as prescription antibiotics. If you suffer from a medically diagnosed skin condition such as Atopic Dermatitis, it is recommended that you consult your doctor before using new skincare products. And when you're ready, RAYNE is here to provide plant-based skincare that can pave the way to beautiful skin.
Fight Hyperpigmentation and UV Damage
It can be difficult to look in the mirror when you have dull, UV damaged decolletage. Or, maybe you suffer from sun spots on your face. Melanin production due to constant sun exposure isn't cured easily with standard sunscreens and creams. No need to fear; Hemp-seed oil consists of natural linoleic acid and α-linolenic acid, which subsequently increases the removal of extra melanin resulting in reversed hyperpigmentation and an even complexion.
---
Additional Plant Ingredients in RAYNE Products
Raspberry Ketones:
Naturally occurring chemicals are responsible for producing the sweet aroma of raspberries.
Beyond this, they have been thought to carry a range of benefits, including hair growth,
increased skin elasticity, and skin lightening.
Vitamin C:
Has been associated with collagen formation when topically applied to the skin. The production
of collagen is essential for good skin health as it helps thicken skin tissue, which can diminish
fine lines and prevent wrinkling. As an antioxidant, Vitamin C can also protect skin cells from
environmental damage.
Jojoba Oil:
Sourced from the jojoba plant, which thrives in desert climates, this oil is hypoallergenic,
antibacterial and helps to control sebum production by keeping skin hydrated. Speaking of
hydration, jojoba oil is a natural humectant, meaning it adds moisture to the skin by attracting
water molecules like a magnet.
Witch Hazel:
This skin support powerhouse is native to the United States and has been used for centuries as
a natural skin remedy. Working as a natural astringent/toner, witch hazel has the potential to
reduce skin irritation, fight acne and protect against skin damage.
Aloe Vera:
Have you ever reached for aloe gel after a little too much fun in the sun? That's because aloe
vera offers a wide range of skin benefits! From soothing burns and restoring moisture to
hydrating skin and relieving itchiness, aloe vera is a trusted natural solution.
---
We understand how important the appearance of your skin is. When it comes down to picking which products to add to your regime, you may realize that there are a lot of options to choose from. It goes without saying that it's crucial to purchase from a brand you can trust. Top rated hemp and CBD companies will offer full transparency regarding their methods of sourcing, production, and ingredients.
At RAYNE, we pride ourselves on only using ethically sourced, USA grown materials that are third party lab tested and certified for safe daily use. Each of our uniquely crafted products are manufactured in an ISO-6000 lab.
Rayne Beauty
t RAYNE, we pride ourselves on only using ethically sourced, USA grown materials that are third party lab tested and certified for safe daily use. Each of our uniquely crafted products are manufactured in an ISO-6000 lab.
We've spent 25 years in the beauty industry and have invested ourselves in creating premium products that can be used by all. Our line provides proven trustworthy results. We put education at the forefront of our brand and commit ourselves to providing the highest quality products in the Hemp and CBD markets.
Life gets busy. Skincare isn't always our first priority, usually until it's too late. Luckily, you don't have to suffer in silence and your confidence can be restored with proper implementation of an effective routine. A quality plant-based skincare line can be your personal arsenal and line of defense against a host of all too common skin problems. Try RAYNE today.
---
Sources:
Callaway, J., Schwab, U., Harvima, I., Halonen, P., Mykkänen, O., Hyvönen, P., & Järvinen, T. (2005). Efficacy of dietary hemp-seed oil in patients with atopic dermatitis. Journal of Dermatological Treatment, 16(2), 87-94.
Gholap, A., Mahajan, M. P., & Gupta, M. K. Skin and Skin care in Ayurveda. (2015). Skin and Skin care in Ayurveda.
Kwok, Y. L. A., Gralton, J., & McLaws, M. L. (2015). Face touching: a frequent habit that has implications for hand hygiene. American journal of infection control, 43(2), 112-114.

Text